Loving Nannies Rates
When you're ready to begin a personalized nanny search, just contact us at (800) 682-8154 . Your Loving Nannies family representative will walk you through the nanny finding process, and get you ready to start interviewing prospective nannies. We will make sure that you only interview nannies that match your specific criteria, price range and other requirements, so that your job is simple and easy! Just sit back, pick the nanny you like and she can start within a few days!
Loving Nannies charges an upfront application fee of $250 to begin a nanny search. We do not charge the placement fee until you have tried out your nanny and are 100% sure that you'd like to move forward with hiring. All placements come with a 1 year guarantee, so if your nanny leaves for any reason you are covered!
Take a look at our competitive placement fees. Unlike many of our competitors who charge a hefty % of the nanny's annual salary, we charge a reasonable flat fee. This means you will know the placement fee upfront (no surprises!) and you can feel confident that we are basing our fee on the nanny's experience alone and not depending on how much we will make off the placement fee (we have no motivation to inflate their rate!). 
Part-time Caregiver (under 29 hours/week)                 $3,000
Full-time Caregiver (over 30 hours/week)                     $5,000
Live-in Caregiver or Nanny Housekeeper                     $6,500
Regular Babysitter (under 10 hours/week                    $2,000
Newborn Care Specialist (NCS)                                       25% of nanny's gross pay or flat fee determined by owner.
Temporary Nanny or Babysitter                                     $1,000 per month
(The minimum fee for any nanny placement over one month is $2,000).
* NCS and temporary nanny fees may be substituted for a flat fee determined by the owner. Please inquire within for a quote. Fees for NCS will be paid upfront as soon as they are booked for your job
Easy Comparison Table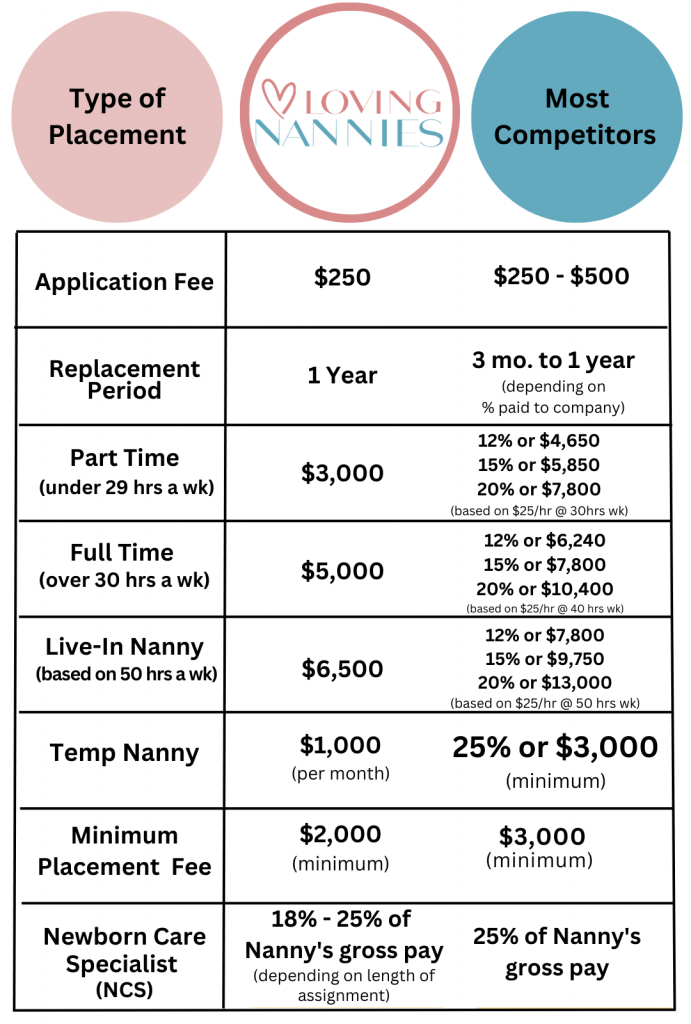 All nannies and babysitters undergo a thorough background check upon hire. The Loving Nannies background check includes a SS# verification check, National criminal and sex offender search, county criminal searches in the main counties the nanny has resided at during the past 7 years (going off the nanny's social security number) and DMV report. We always update the nanny's background check before starting a new position. If the nanny is new to our agency, a thorough background check will be ran before starting any position through our agency. Many nannies already are registered with Trustline and new nannies are given all registration documents to register with Trustline.
Here are the current nanny rates in San Diego County. Nanny wages vary depending on the nanny's experience as well as different factors such as how many children will be cared for, job duties and how many hours they nanny will be working. Nannies do expect to be paid a gas allowance if they are driving the children to/from activities.
Nannies- $23-$30/hr (currently the going rate is ~$25/hr for 1 child)
Live-in Nanny, Housekeeper or Nanny/Housekeeper – $1,000-$1,400/wk + room/board (based on 40-50 working hours/week, depending on living arrangements, for example: separate apartment or room inside home).
Nanny/Housekeeper- $1000-$1400/wk (depending on how much housekeeping is needed and other factors such as driving, number of children and other household management responsibilities).
Newborn Care Specialist-$30-$35/hr for one baby & $45-$55/hr for multiples or special needs.
Babysitters – $25-$35/hr (4 hour minimum)
Temporary Nannies-$25-$35/hr (4 hour minimum)
Ready to learn more? Contact us now.
Ready to sign up? Click here for our Family Application & Agreement.